Rachel Zoe Rises To The Occasion: Launching A New Childrenswear Collection While Raising Two Boys
One of the most powerful sartorial stars in the fashion industry, Rachel Zoe is returning to the runway with a fresh parade of sparkle, animal print and gold lamé-style pieces that are both childproof and mom-approved. Tapping into a new platform with a Girls and Boys collection by Janie and Jack, this influential designer is transforming the childrenswear market with three-piece suits and off-the-shoulder jumpsuits that are rock 'n' roll edgy and California cool.
But taking a cue from a new playbook isn't as simple it looks. Balancing her blooming business with life as a mother is a constant juggling act. And Zoe, like all mothers, struggles with where to draw a line in the sand. Adopting new strategies and drawing different game plans, Zoe has learned overtime to multitask while staying focused and present. Zapping her me time for now, this Los Angeles-based power boss has dedicated the 24-hour clock to her business and her boys, losing no sacred time in the office or at home.
Amid Zoe's premiere of her new childrenswear line, Haute Living sat down with Zoe to have an intimate conversation on designing for a new platform and balancing her business with her boys.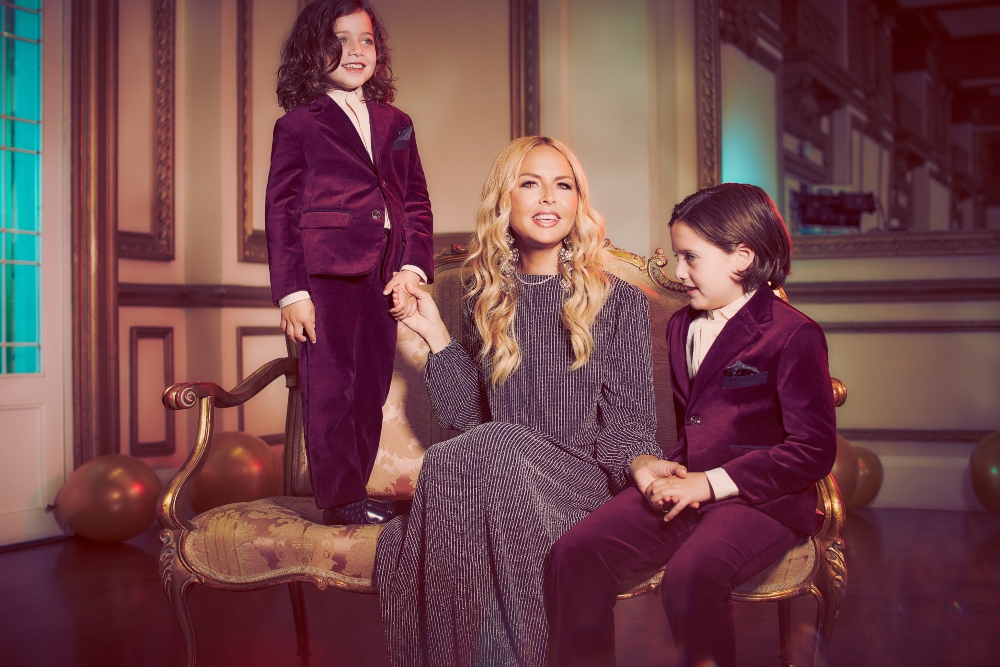 Photo Credit: Guy Aroch
Haute Living: Tapping into a new platform with a Girls and Boys collection by Janie and Jack, why design for childrenswear?
RACHEL ZOE: It's so much fun! I could literally do it forever. Designing for children, as you can imagine, I have so many little muses in my life, aside from my own children. I always think, "What would this look like in a kids version? What if we did a little tuxedo for a 5-year-old girl?" The kids looked so great. I wanted everything in my size.
HL: You recently curated a Holiday collection and an upcoming Resort line. What motivated its colors, tones and patterns?
RZ: I took inspiration from some of the prints from my ready-to-wear collection. And then, I basically took most of the things that I love in design like sparkle, animal prints, velvets, puffed sleeves and gold lamé. It's just the cutest thing ever. There's a three-piece suit [and] a tux for the boys in a Bordeaux-wine color as well as in black. It's just too much to actually handle. There are maxi dresses. There are off-the-shoulder jumpsuits. It's just ridiculous.
HL: Were your sons an inspiration to you during the design process?
RZ: My kids were a huge inspiration for me during the design process! Kaius is at the age where he still lets me dress him, whereas Skyler is having more of a say in what he wants to wear to school. He is much pickier in terms of fit, material and comfort, which is why it was so important as a designer to use their feedback in creating this Janie and Jack collection.
HL: Do you feel that children, like adults, speak through their clothing?
RZ: Yes. The girls that I know, 95 percent of them, have a very strong opinion about what they wear, starting at age 3. I can tell so much about a child by how they're dressed.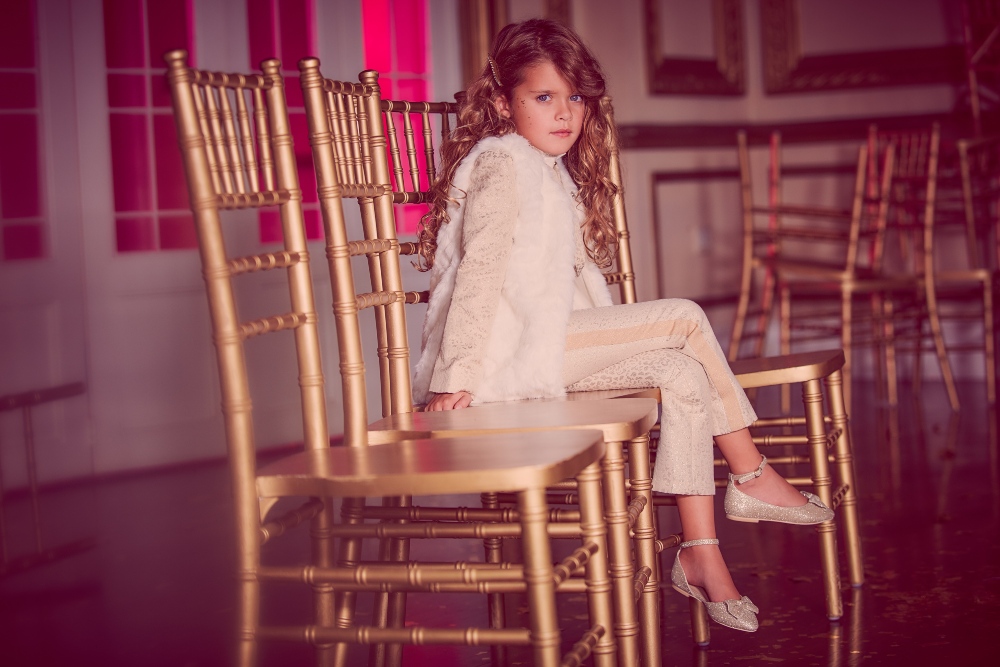 Photo Credit: Guy Aroch
HL: In a recent interview with Haute Living, you mentioned that the first person you styled was a 7-year-old boy. What outfit would you style him in now from this collection?
RZ: All of it! I would break it up. I would do the velvet tux jacket with jeans and a T-shirt so that he could wear it. One of my favorite things that I put the boys in when we're going to something that's a little dressy but not a full event where you have to wear a full suit, is a tank or a T-shirt under a black-velvet jacket with jeans and ankle boots. I always like to give a little rock 'n' roll edge to it and a little California cool. I think the thing with boys is that they need to be comfortable. But it's not different when you're a grown-up. [Husband] Rodger won't put anything on that isn't comfortable.
HL: As a working mom building an empire, how are you able to balance both your roles as a CEO and a mother?
RZ: It really comes down to prioritizing! With running a business and being a mom, you really have to be strategic with how you spend your time. I have a lot of commitments between our businesses. Whether it's design inspiration for Rachel Zoe Collection, approving the next items for my luxury-subscription business named Box of Style, meeting with the different teams we are currently collaborating with or doing a personal appearance, I have to be very focused so when I pick my boys up from school, I can be involved and present with them for the rest of the night.
HL: What was the best advice your mom gave you about motherhood?
RZ: You definitely get a degree in medicine by the time your kids are 5 years old! My mom used to be able to tell the temperature of the fever I had by feeling my head. I can definitely do that with my boys now. She also tries to teach me to have my own life outside motherhood, which I'm definitely not as good at as she was.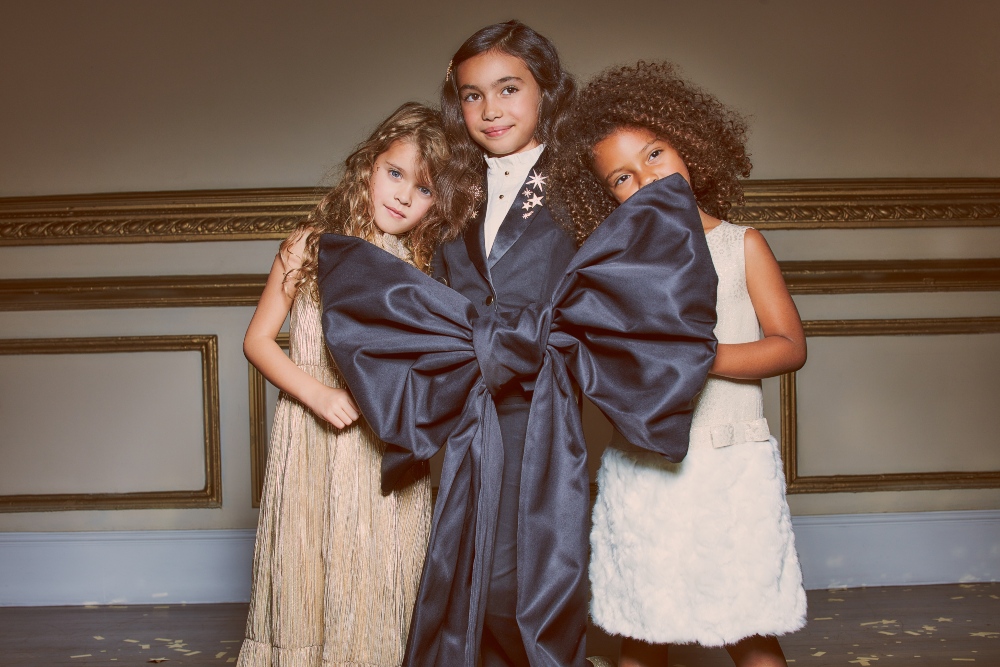 Photo Credit: Guy Aroch
HL: As a mother of two, what was your biggest learning lesson?
RZ: Priority shift—definitely! Multitasking has taken on a whole new meaning. Being a hands-on mom and CEO of a company, I have surrendered me time for now, and that's okay because the time goes by very fast. Parenting is also an exercise in patience. You must learn to take a lot of deep breaths, as they are only children, and as a parent you have to communicate on their level if they don't understand or process something.
HL: Your Holiday collection for Janie and Jack generated great success. Do you see yourself creating a namesake childrenswear brand in the future?
RZ: 100 percent. I think doing collaborations is great because you get to see what works in the market and what people respond to. It's such a fun territory for me and a natural transition for me as a designer. I would do anything. I was thinking yesterday, I have so many doctors in my life that ask if I can design their scrubs. And airline stewardesses asked if I could make their uniforms for the plane. I love it. I think every part of your life should be stylish and glamorous.